14 lutego to święto zakochanych, których patronem jest święty Walenty, o tym wiedzą wszyscy. Nie wszyscy jednak wiedzą gdzie i w jakich okolicznościach powstało i kim był święty Walenty. A wiedzieć należy, że posiada włoskie, choć może bardziej rzymskie korzenie. Imię Walenty to po włosku Valentino, natomiast Walentynki to Festa di San Valentino.
Święto zakochanych
Papież Gelasio I w 496 roku postanawia znaleźć jakiś bardziej godny odpowiednik pogańskiego święta lupercalia. Uważa bowiem że sposób jego obchodzenia jest niestosowny i dość kontrowersyjny w kontekście kościoła chrześcijańskiego, który reprezentuje.
Święto obchodzone 15 lutego poświęcone było bogowi płodności Luperco. W czasie jego trwania nawet szanujące się kobiety i matki w ciąży pozwalał się chłostać grupie młodych, nagich młodzieńców przechodzących ulicami. Ten rytuał miał być dobrą wróżbą, a ciężarnym dawał nadzieję na szczęśliwe rozwiązanie, tak przynajmniej wierzono.

[adrotate banner="3″]

Dlatego właśnie papież zdecydował, by ustanowić nowe święto, święto zakochanych i obchodzić je dzień wcześniej, tj. 14 lutego. Stara się także by posiadało oddźwięk zgoła odmienny od tego pogańskiego, by koncentrowało się na miłości. Obiera też patrona – św. Walentego, gdyż w jego biografi znalazły się potwierdzenia iż pomagał ludziom, którzy się kochali, a spotkały ich perypetie miłosne.
Kim był św Walenty?
Choć może bardziej precyzyjnie byłoby zapytać kim byli święci, bo mówi się o dwóch świętych, którzy żyli w czasach wczesnego chrześcijaństwa. To co wiemy z pewnością to, że obaj zginęli śmiercią męczeńską, ale tak naprawdę nie znamy zbyt wielu faktów z ich życia.
Jeden św. Walenty urodził się w Interamna (teraz Terni) w 176 roku, wspierał i pomagał zakochanym, zachęcał do życia małżeńskiego do posiadania i wychowywania dzieci. Podobno uzdrawiał epileptyków, wrażliwy szczególnie na skłócone pary. Wspomina się go w zdarzeniu, kiedy pogodził zakochanych, którzy się kłócili obdarowując ich kwiatem róży.

[adrotate banner="3″]

Jest jeszcze inny św. Walenty, na którym został wykonany wyrok śmierci 14 lutego 496 roku. W ówczesnych czasach zabraniano mieszanych małżeństw, uważane były za świętokradztwo. Natomiast Walenty udzielił ślubu Sarapii – chrześcijance i Sabino – pogańskiemu legioniście rzymskiemu. Z racji że Sarapia była śmiertelnie chora do ślubu doszło w pośpiechu, a oboje umierają na ołtarzu błogosławieni przez św. Walentego. Za przekroczenie prawa Walenty został skazany na śmierć przez ścięcie głowy.
Co łączy św. Walentego z Kupidynem?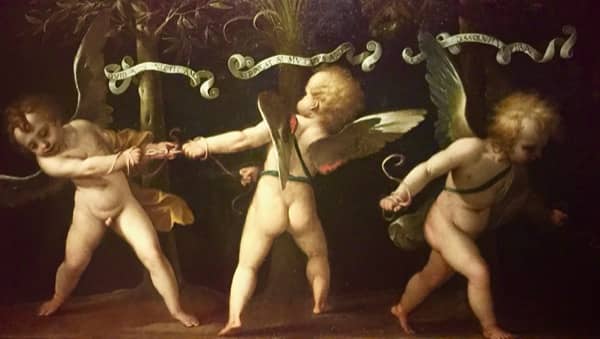 Za literackie przypisanie świętemu Walentemu funkcji patrona zakochanych i opiekuna miłosnych perypetii odpowiedzialny jest pisarz angielski Goffrey Chaucer ("Opowiadania z Canterbury"), który przy końcu XIV wieku napisał poemat "The Parliament od Fowls" (Parlament Ptaków) na cześć zawarcia małżeństwa między Ryszardem II i Anną Czeską. W tekście autor łączy figury św Walentego z Kupidynem, rzymskim bogiem miłości.

[adrotate banner="3″]