Komiks ma we Włoszech bogatą tradycję i wielu jest miłośników tego połączenia literatury z ilustracjami, o ile tak można nazwać ten rodzaj sztuki. W rozmowach wiele osób z nostalgią w głosie wspomina swoją ulubioną serię komiksów z dzieciństwa – Topolino (w Polsce Myszka Miki), dla wielu jest jedną z pierwszych samodzielnie przeczytanych pozycji książkowych.
Dużą popularnością cieszą się także komiksy Marvela, a co się z tym łączy także filmy i gadgety z serii Super Heroes. Nie mówiąc już o klasykach tego gatunku jak Gwiezdne wojny, Star Trek, czy Doctor Who. Dzięki powrotowi do kin dawnych historii i ich nowych ekranizacji przybywa także młodych entuzjastów tej tematyki. Zamiłowanie do tego gatunku zaszczepiają rodzice a czasami dziadkowie. Nic więc dziwnego, że tak wielu ludzi odwiedza Torino Comics.
[adrotate banner="3″]
Torino Comics to targi dedykowane miłośnikom komiksów, gier, videogames i cosplay. Główne wydarzenie odbywa się w kwietniu, natomiast w połowie grudnia ma miejsce jego przedświąteczna edycja zwana "XMAS Comics and Games". Organizowane są w Centrum Kongresowym Lingotto w Turynie.
Oprócz komiksów tematem przewodnim targów są gry. To duże zainteresowanie grami widać zarówno w przeważającej ilości wystawców jak i odwiedzających. Każdy może znaleźć coś dla siebie wśród gier planszowych, kart do gry lub szczególnie popularnych wśród młodzieży videogames.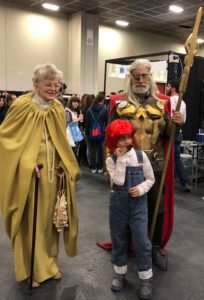 Najbardziej widowiskową częścią targów jest udział cosplay. Wielu uczestników przychodzi przebranych za swoich ulubionych bohaterów z komiksu, gry czy też filmu. Kostium gwarantuje wejście gratisowe. Włosi bardzo chętnie biorą udział w wydarzeniach, które wymagają kostiumu. Pewnie ma to związek z zabawami karnawałowymi kiedy dzieci, a nawet dorośli przebierają się co roku za ulubione postacie z bajek lub filmów. A może jest to nawiązanie do kultury japońskiej, która wzbudza tutaj duże zainteresowanie i naśladownictwo. Właśnie, skoro już o tym mowa, na jednym ze stoisk można kupić woreczek z… nieznaną zawartością i w różnych cenach (minimalna to 20 euro), taka niespodziewana niespodzianka. Dla niewtajemniczonych, do których i ja niedawno się zaliczałam, zwyczaj ów przywędrował tu właśnie z dalekiej Japonii i znając życie z pewnością ktoś się skusi na taki zakup. Nie ma to jak porządny kot z worka!
Wspomnieć należy jeszcze o spotkaniu z Youtuberowcami. To doprawdy duże zaskoczenie widzieć jak własne pociechy szaleją za kimś, kto jest zupełnie nieznany rodzicom! Kiedyś szalało się za piosenkarzem, może sportowcem, dzisiaj gwiazdami są dzieciaki z trądzikiem jeszcze na twarzy, którzy swoją popularność zdobywają w czterech ścianach własnego domu. W takich momentach widać realne spotkanie świata wirtualnego z rzeczywistym, to doprawdy fenomen Internetu.
[Best_Wordpress_Gallery id="4″ gal_title="Torino Comics"]
il fumetto – komiks
Mi piace leggere questo fumetto. Lubię czytać ten komiks.