Jeśli przyjdzie nam przeprowadzić się do innej kultury, przyzwyczajamy się do nowych zwyczajów. A jednak czasami zdarza się w "nowym świecie" odwiedzać miejsca, które przywołują wspomnienia z dzieciństwa, przypominają o przedmiotach z przeszłości. W takim momencie zostajemy, jak Alicja po drugiej stronie lustra, zawieszeni w magicznym wymiarze.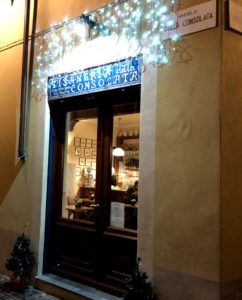 To był jeden z tych magicznych wieczorów w okresie świątecznym, kiedy nikt się nigdzie nie śpieszył. Przemierzając wąskie, brukowane uliczki w centrum Turynu szukaliśmy jakiejś ciepłej kafejki, bo zimno całkowicie nas przeniknęło. Szczególnie atrakcyjnym wydawał się lokalik gdzie na wystawie wyłożone były pełne tace domowych wypieków. Pewnie to i dziwne, że po tylu dniach wzmożonego kosztowania świątecznego jadła staliśmy całą rodziną z nosami przy szybie.
Jak się okazało, była to herbaciarnia – miejsce dość rzadkie w kraju, gdzie niewątpliwie króluje kawa i gdzie bary z kawą znajdują się niemalże na każdym rogu ulicy. Nie często się zdarzało by osoba, którą gościłam w domu chciała napić się herbaty, tylko kawę albo wode.
W jakiś dziwny sposób udało się nam dorosłym powstrzymać łakomstwo i nie zamówić placka, choć ze zdziwieniem obserwowałam ten nagły napad głodu u mojego syna, od niedawna nastolatka, jak pałaszował dość spory kawałek ciasta z suchymi owocami zatopionymi w pomarańczowej galaretce… W końcu i my pozwoliliśmy sobie na chwilę szaleństwa, zamawiając grzane wino czyli vin brulè.
[adrotate banner="3″]
To miejsce miało dziwnie znajomy wygląd i przyjazną atmosferę. Przypominało dawny sklep pełen starych imbryków do parzenia herbaty, na ścianach obrazy z bukietami kwiatów, jakieś pejzaże. Na regałach znajdowały się porcelanowe słoje z przykrywkami, wypełnione różnymi suszonymi ziołami i owocami. Na ladzie stał duży srebrny samowar, w którym gotowała się woda. Może ten sprzęt nie był całkowicie związany z polską tradycją, ale pamiętam jak swego czasu także i w moim domu używaliśmy podobnego do robienia herbaty. A na dodatek charakterystyczny zapach ziołowo-korzenny odurzał aromatem zamkniętych w pudełkach wspomnień przeszłych, letnich dni. Ogarnęła mnie nostalgia i pomyślałam sobie, że chyba w ten sposób musiał wyglądać sklep cynamonowy, do którego tak często wracałam pamięcią.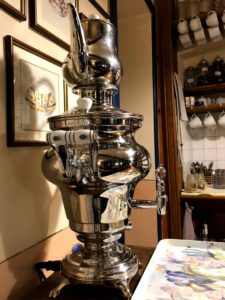 Kiedy wino wypełniło już swoją rolę rozgrzewającą i zrobiło się tak cieplutko, zauważyliśmy, że do środka zaczęli wchodzić coraz to nowi goście. W pewnym momencie usłyszałam głos jakby z innego świata, znajome mi "dzień dobry"! Polskie klimaty, zapach herbaty, duże kubeczki z uszkami i jeszcze w dodatku to niespodziewane "dzień dobry". Ten wieczór musiał być magiczny!
Z niedowierzaniem spytałam czy i moi mężczyźni słyszeli to przyjazne polskie pozdrowienie. No cóż, okazało się, że jakiś pan zapytał po włosku o stolik nr 11, a mnie się wydawało coś innego. Magiczny moment spotkał się z rzeczywistością i prysnął jak bańka mydlana. Powiedzieli mi, że chyba wino uderzyło mi do głowy i zaczynam słyszeć głosy… Hmm kto wie, może rzeczywiście uwiodło mnie to słodkie korzenne wino i słyszałam to co chciałam w tym magicznym sklepie cynamonowym?
Wyszliśmy z magicznej herbaciarni. Pomyślałam sobie, że teraz to już chyba tylko brakuje, żeby podjechała zaczarowana dorożka, ale tego to ja już nikomu nie powiedziałam. Bałam się zostać posądzoną nie tylko o "efekt winny", ale jeszcze o pomylenie miasta, kraju.
[adrotate banner="3″]
[Best_Wordpress_Gallery id="6″ gal_title="Herbaciarnia"]