Jeżeli przed nosem zaczną wam przechodzić śliczne, małe księżniczki, drogę przetną biegnące spiderman'y lub batman'y a w wózkach zauważycie przewożone małe dzieciaki ubrane niczym pieski lub kotki to znak, że karnawał w toku. Niekiedy wystarczy jakiś mały drobiazg doczepiony do ubrania, maska lub wymalowanie kocich wąsów na twarzy, by należeć do kolorowej, świętującej armii.
W ostatnie dwa dni karnawału tj. poniedziałek i wtorek przed Środą Popielcową dzieci nie idą do szkoły, a w okolicy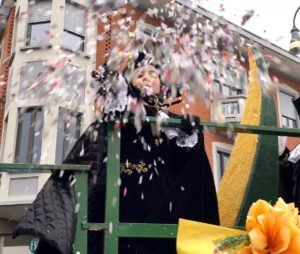 organizowane są pochody karnawałowe. Są miejsca, gdzie obchody tego święta przypadają (o dziwo!) po Popielcu. Dotyczy to zwłaszcza Lombardii, gdzie w tej kwestii nie obowiązuje obrządek rzymski, ale ambroziański czyli pochodzący od świętego Ambrożego – patrona Mediolanu. Według tradycji świętuje się jeszcze kilka dni dłużej w porównaniu do obchodów tradycyjnych.
W Piemoncie natomiast do jednych z ważniejszych wydarzeń karnawałowych należą: bitwa na pomarańcze w Ivrei oraz Carnevalone obchodzony w Chivasso. Ten drugi odbywa się w pierwszą niedzielę Wielkiego Postu, tradycja ta została zapoczątkowana od 1951 roku. Z powodu brzydkiej pogody impreza została przełożona na następną niedzielę, która oczywiście przypadała w czasie postu. Jak można się przekonać organizatorzy nastawieni na tak radykalne zmiany i w tym roku nie wykluczali zmiany terminu na jeszcze następną niedzielę w przypadku niesprzyjającej aury.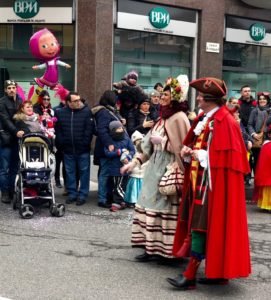 [adrotate banner="3″]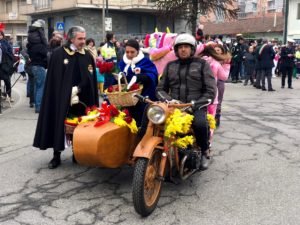 Pogoda dopisała. Większość ludzi przyszło w przebraniach i z racji wyglądu jeden przyglądał się drugiemu z zainteresowaniem. O godz. 14.30 ruszył wesoły pochód: jako pierwszy szedł Prezydent Miasta. We Włoszech łatwo rozpoznać Pana Prezydenta z racji przepasanej przez ramię trókolorowej wstęgi, nawiązującej do flagi Włoch. Tuż za nim ruszyły postacie historyczne, charakterystyczne dla tego regionu. Wśród nich byli: Gianduia – strój karnawałowy charakterystyczny dla Piemontu – ze swoją panią Giacometta oraz Bela Tolera – młoda dziewczyna, mieszkanka Chivasso, wybierana co roku do tej honorowej roli.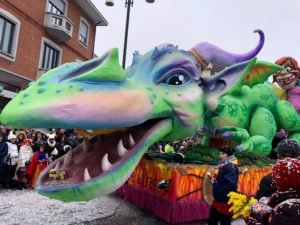 Ruszyły także i wozy kolorowe, wypełnione po brzegi olbrzymimi bohaterami świata: legend, historii, kreskówek, polityki. Znalazło się miejsce dla usymbolizowania fiscusa, któremu nadano postać żarłocznego potwora. Jenen z wozów przybrany został groteskowymi postaciami znanych polityków. Jak można się było przekonać taka manifestacja to także sposób wyrażenia opinii na tematy społeczno-polityczne.
[adrotate banner="3″]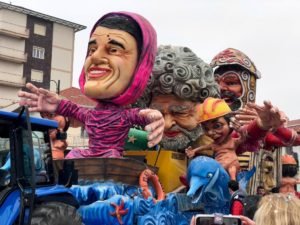 Uczestnicy pochodu podążający za wozem rzucali w publiczność garściami konfetti i gałązkami mimozy. Bardzo szybko konfetti zaczęło tworzyć miękki dywan, którym usłana była cała ulica, tak że zbierało się je garściami i rzucało w przejeżdzających. Po jakimś czasie nie wiadomo czy z zimna czy też pod wpływem wydobywającej się z głośników muzyki nogi same zaczynały tańczyć i wesoła atmosfera udzielała się wszystkim, zarówno dużym jak i małym. Także wśród widowni wywiązała się pewnego rodzaju bitwa, choć o znamionach bardzo przyjacielskich i pokojowych.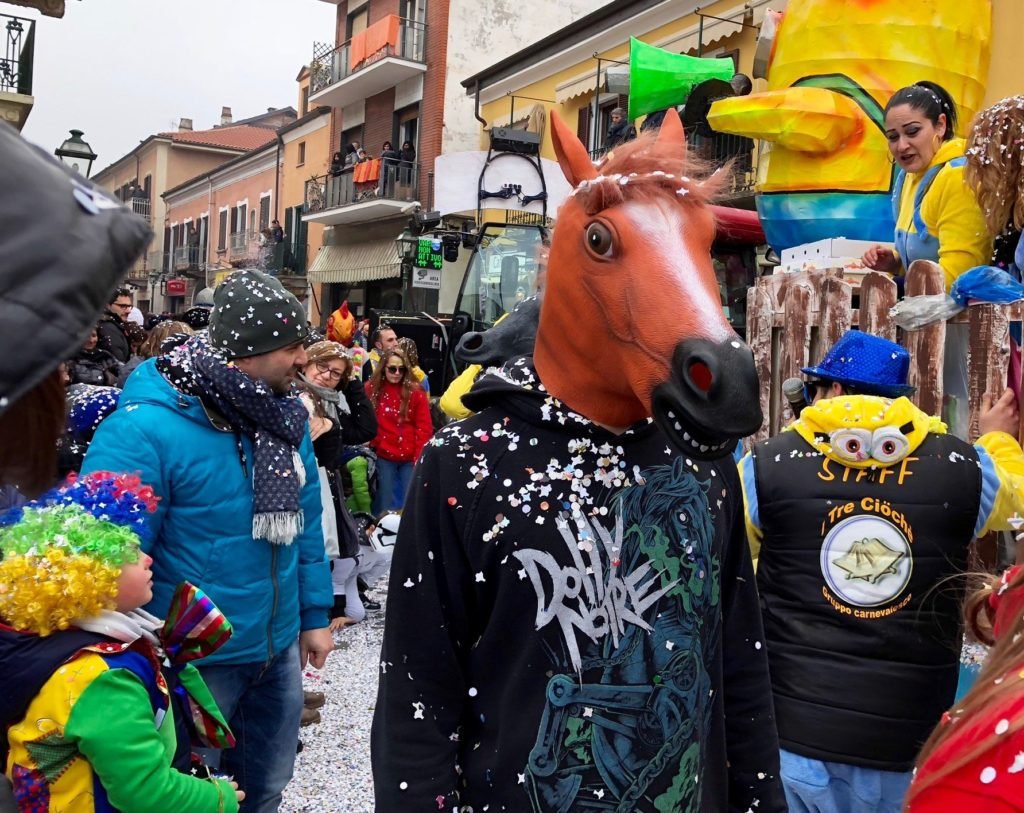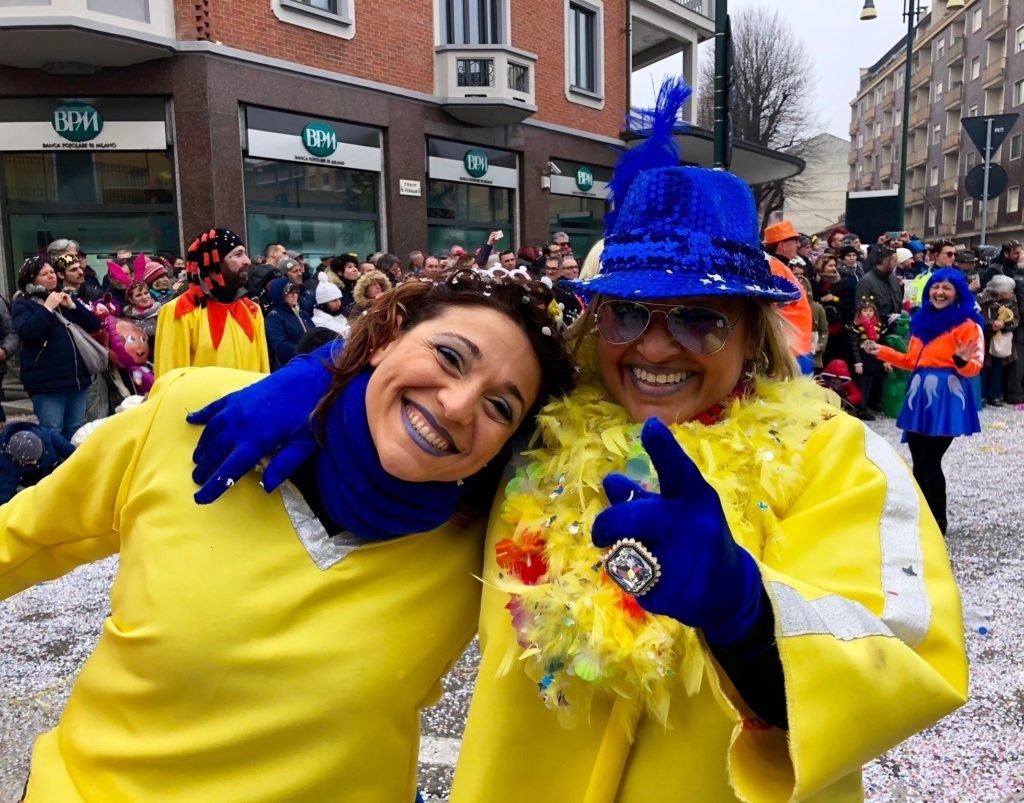 Długo można próbować strzepywać kolorowe kółeczka z ubrań po takiej karnawałowej wojnie! Nie wiadomo skąd, przez długi jeszcze czas, znajduje się resztki konfetti w butach, w torbie, w kapturze, przyczepione do lewej strony swetra, w rękawiczkach, w kieszeni, a nawet w miejscach, o których przyzwoitość nie pozwala mi wspomnieć.