Karnawał to bajeczny czas przebierańców, kolorowych masek i konfetti rozsypanych na wszystkich placach zabaw. Kiedy już po tych wszystkich szaleństwach usiądzie się głodnym, to znak, że nadszedł czas na tradycyjne, słodkie bugie.
O tym, że Karnawał się rozpoczął przekonuje nas wygląd witryn w cukierniach, gdzie na honorowym miejscu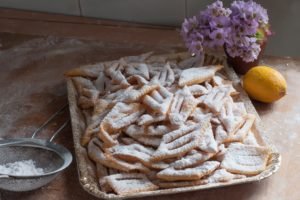 wystawiane są bugie – smakołyki charakterystyczne dla tego kolorowego okresu.
Posiadają złocisty kolor, są kruche i chrupiące, posypane cukrem, mają formę raczej nieregularną, choć jak się lepiej przyjrzeć to mogą przypominać węzeł. Te kupione w cukierni są bardzo apetyczne i mają smak domowych wyrobów, kupuje się je na wagę.
Wyglądem i smakiem przypominają polskie faworki. Choć przepis jest prosty i znany wszystkim od wieków, to wiele jest jego wariantów i unowocześnień. Nie zapominajmy, że mowa tu o Włoszech, więc pomysły wysypują się jak z rękawa! Spośród wielu przepisów na bugie występują: polane gorzką czekoladą, nadziewane dżemem lub pieczone w piekarniku, maczane we wszechobecnej nutelli. Słyszałam także, choć nie dane mi było spróbować, o wersji polanej miodową polewą.
[adrotate banner="3″]
W marketach znaleźć można bugie w szczelnie zamkniętych opakowaniach, na ogół 250g. Mają postać płaskich prostokątnych listków posypanych cukrem lub oblanych czekoladą. Kosztują także nieco mniej. Oczywiście wszyscy o tym mówią i wiedzą, że nie są tak dobre jak te z pasticceria, ale według mnie mają swój urok i też mogą smakować, choć są bez wątpienia mniej kruche.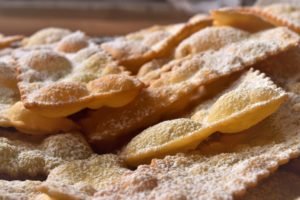 Z tego co mówią źródła historyczne pochodzą jeszcze z czasów rzymskich, przygotowywano je na obchody świąt Saturnali i nazywano frictilla, smażone były na smalcu. Rozdawane na ulicach, z racji czego przygotowywano je w dużych ilościach.
W zależności od regionu posiadają zupełnie inna nazwę. Dla mnie najbardziej znajoma jest nazwa chiacchiere. O historii jej powstania dowiedziałam się po raz pierwszy w czasie zwiedzania muzeum grobów królewskich pod bazyliką Superga, która majestatycznie wznosi się nad miastem. Przewodnik opowiadał z wielkim zaangażowaniem o wielu ciekawostkach związanych z historią Turynu. Przyjemnie jest spotkać i posłuchać osoby zakochanej w swoim mieście. Dzięki takiemu entuzjazmowi lepiej zapamiętuje się informacje i rośnie chęć ich pogłębiania, o czym świadczy również niniejszy tekst.
[adrotate banner="3″]
Otóż legenda głosi, że królowa Margherita, (ta od pizzy, bardzo kochana przez swój lud) poprosiła swojego nadwornego kucharza – Raffaelle Esposito by przygotował jakiś słodki dodatek, który można chrupać w towarzystwie przy rozmowach o tym i owym. Kucharz przygotował na tę właśnie okoliczność złociste smażone paski, które z racji funkcji zostały nazwane chciacchiere, w tłumaczeniu na polski myślę, że najlepszym określeniem byłoby "gadu-gadu", tudzież "ploteczki".
la bugia – kłamstwo
la pasticceria – cukiernia
fritto – smażony
chiacchierare – gadać, plotkować