Le Panchine Giganti, z włoskiego olbrzymie ławki, powszechnie znane jako "Big Benches", to coś więcej niż tylko publiczne miejsca do siedzenia. Te imponujące drewniane konstrukcje, opowiadają historie, przyciągają wielu miłośników natury i skłaniają do refleksji.
Co to jest la Panchina Gigante?
To w regionie Piemont we Włoszech zapoczątkowana została ta dość oryginalna inicjatywa artystyczna, której celem jest poznanie terytorium i nakłonienie wszystkich nas, którzy tutaj dotrzemy, do chwili refleksji nad otaczającym pięknem przyrody.
To tutaj powstały pierwsze tzw. Gigantyczne Ławki / Le Panchine Giganti / Big Bench. Pomysłodawcą jest amerykański designer Chris Bangle.
Pierwsza taka ławka o dużych wymiarach jest czerwonego koloru i została zainstalowana w 2010 roku w Clavesana niedaleko Cuneo w Piemoncie, w miejscowości gdzie artysta posiada swoje studio.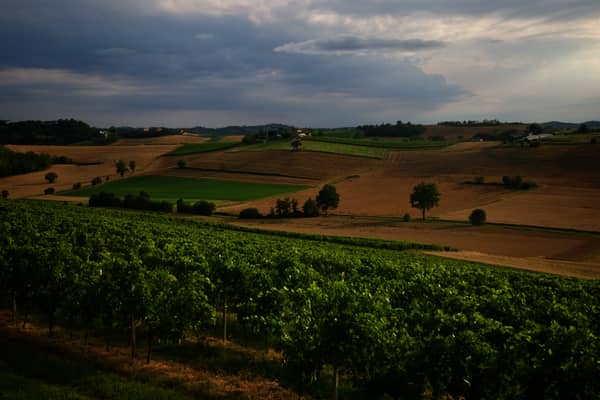 Lokalizacja ławki Panchina Gigante nie jest przypadkowa. Można się o tym przekonać obserwując otoczenie: przed oczami roztacza się przepiękny widok, jakże charakterystyczny dla krajobrazu piemonckiego. Każdy przyjezdny: spacerowicz, wędrownik czy rowerzysta może na niej usiąść, gdyż tego rodzaju ławka znajduje się w miejscu ogólnie dostępnym.
A dlaczego taka duża?
Patrząc na ławkę z boku wydaje się rzeczywiście gigantyczna. Żeby się na nią dostać należy wejść po znajdujących się z boku schodkach.
Artysta miał w tym swój cel. Duża ławka ma sprawiać byśmy poczuli się na niej mali… jak dziecko, bowiem tylko dziecko szczerze potrafi cieszyć się spontanicznie z rzeczy małych, coś co z wiekiem prawie każdy dorosły traci.
A co można robić na takiej ławce? Można się położyć, można przykucnąć, można posiedzieć z wyciągniętymi nogami, albo wstać i próbować zobaczyć najdalszy punkt na horyzoncie, najzwyczajniej – powiercić się jak dziecko.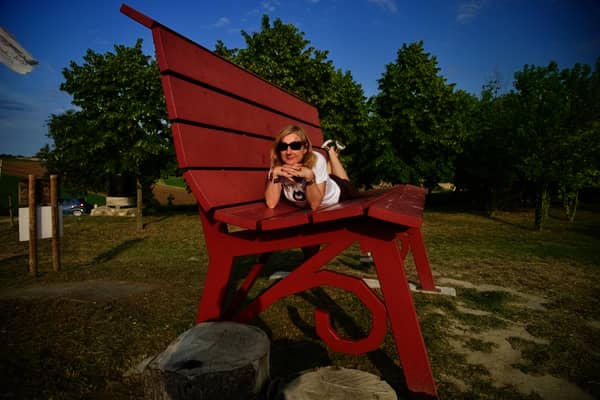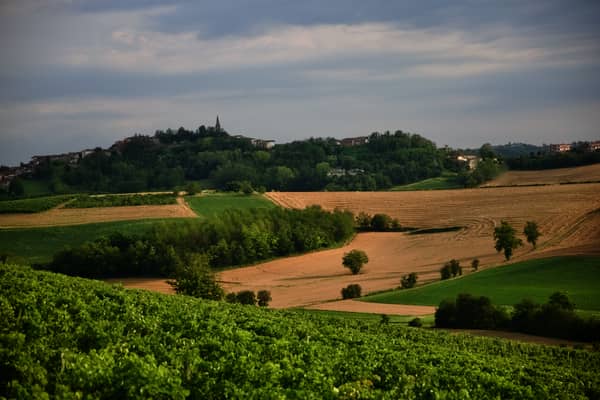 Projekt przyjął się z bardzo dużym entuzjazmem zarówno wśród lokalnych społeczności jak i osób przyjezdnych. Z czasem w okolicy zaczęto stawiać nowe ławki. Bardzo szybko tę inicjatywę przejęły inne włoskie regiony.
Wiele osób zaczęło wznosić takie instalacje, korzystając tylko z własnych, prywatnych funduszy. Ma to charakter promocji terytorium i nakłonienie do przyjazdu w daną okolicę. Artysta wychodząc naprzeciw takim potrzebom, dostarcza bezpłatnie projekt budowy. Muszą być jednak spełnione główne zasady tej inicjatywy: to iż ławka powinna być dostępna dla wszystkich przyjezdnych i ustawiona w miejscu skąd podziwiać można piękny widok na okolicę.
Projekt ten cieszy się ogromną popularnością, tak dużą, że w 2015 roku narodziło się Stowarzyszenie Big Bench Community Project w skrócie BBCP, którego celem jest promowanie znaku towarowego Giant Benches oraz propagowanie idei przewodniej projektu: zmiana punktu widzenia, kontemplacja krajobrazu i ponowne poczucie się jak dziecko.
Jak podaje strona Stowarzyszenia zainstalowano już 326 takich ławek, a 39 jest w trakcie konstrukcji (dane przypadające na miesiąc październik 2023).
Ławeczka Big Bench – Panchina Gigante nr 148 w Alfiano Natta
Każda ławka posiada swój numer i jest dokładnie oznakowana i opisana. Spis wszystkich obiektów wraz z ich dokładnymi współrzędnymi geograficznymi znajduje się na stronie: BBCP.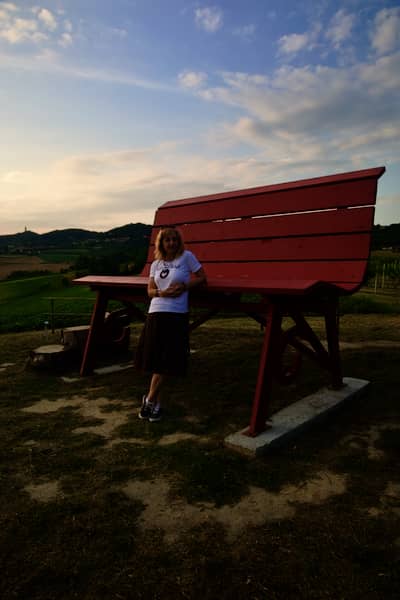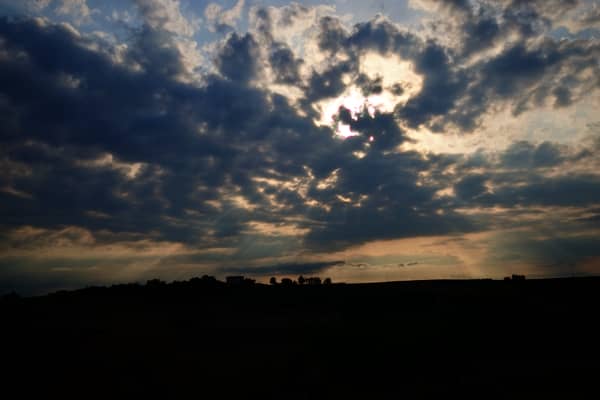 Mnie udało się dotrzeć do ławki nr 148 w Alfiano Natta. Znajduje się na granicy między gminami Asti i Aleksandrii. W sąsiedztwie znajduje się zamek Castello Razzano, w którym mieści się hotel / restauracja / organizacja imprez.
Fakt, że te instalacje znajdują się w miejscach bardzo urokliwych krajobrazowo wiąże się z faktem, że mogą one być położone daleko od głównych dróg i większych miasteczek. Dlatego by dotrzeć do tych miejsc, należy przebyć wiele lokalnych i mniej uczęszczanych tras, dokąd dotrzeć można najłatwiej samochodem, rowerem lub ewentualnie na piechotę.