Zabajone… coś żółtego i z alkoholem – to chyba najbardziej rozpowszechniona opinia wśród osób, które nie do końca wiedzą z czym się to je. W Polsce najczęściej spotkać je można jako nadzienie w pączkach. Żółty krem konsystencji budyniu waniliowego, o lekkim posmaku likieru. Choć nazwa wcale na to nie wskazuje, ale pochodzi właśnie z Włoch i jak podają źródła, z regionu Piemontu.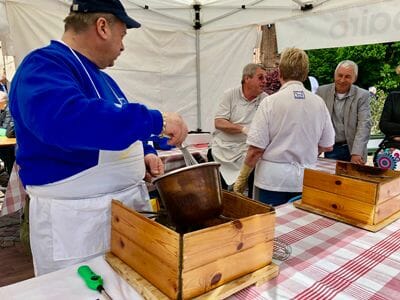 Miejscem, które pomaga poznać lepiej tradycje, kulturę, a przede wszystkim zwyczaje kulinarne Włoch są festyny gastronomiczne. Na ogół są organizowane przez stowarzyszenia zwane Proloco zrzeszające mieszkańców danego terytorium (np. miasteczka), mającego na celu kultywowanie i rozpowszechnianie tradycji regionalnych. Osoby w nich uczestniczące są bardzo towarzyskie i skłonne do rozmów, choć by z nimi rozmawiać na ogół niezbędna jest znajomość włoskiego, a by podbić ich serca pomaga znajomość chociaż kilku słów gwary piemonckiej. To od nich można dowiedzieć się rzeczy, o których nie przeczyta się w książkach.
Będąc na jednym z takich festynów w Agliè, próbuje się wielu smakołyków charakterystycznych dla regionu Piemonte. Na jednym z wystawionych stołów, pod namiotem ogrodowym przygotowuje się na poczekaniu ciepłe jeszcze zabajone. Ubijają je trzepaczką nad płomieniem w miedzianym garnku. Sprzedawane za drobną opłatą w małych kubeczkach jako mus o bardzo intensywnym żółtym kolorze. Przypomina nieco polski kogel-mogel, choć oczywiście smak jest zupełnie inny.

[adrotate banner="3″]

By wykonać zabaione należy ubijać jajka, cukier i słodkie białe wino w naczyniu nad parą. Wykonany w ten sposób delikatny mus jeszcze ciepły, je się łyżeczką lub kruchym ciasteczkiem o wydłużonym kształcie. W przygotowanym podług starej tradycji zabajone, wyczuwa się zdecydowanie smak białego wina.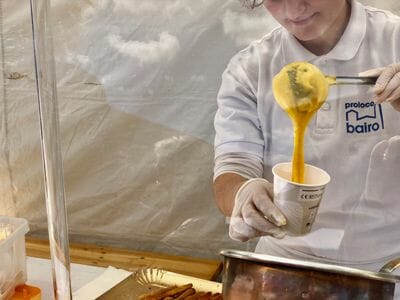 Rozmawiając z osobami z Proloco Bairo, proszę by opowiedziano mi nieco o historii tego deseru.
Zabaione to deser, który istnieje od kilku stuleci. Historia wymaga przedstawienia wcześniej sylwetki Pasquale Baylona urodzonego w 1540 roku w Torre Hermosa w prowincji Aragonia (Hiszpania). Pracuje od dzieciństwa jako pasterz, sam uczy się pisać i czytać. Żyjąc w samotności i na łonie natury, Baylon często rozmyśla i kontempluje, rodzi się w nim chęć poświęcenia życia Bogu. Mając 20 lat wstępuje do klasztoru Najświętszej Maryi Panny z Loreto. Już jako osoba duchowna podróżuje po Europie, by w końcu osiąść w Turynie w parafii św. Tomasza. Po jego śmierci, z racji swojego świątobliwego życia i za sprawą wielu cudów przypisywanych jego osobie w 1680 roku zostaje ogłoszony świętym i patronem kucharzy i cukierników oraz mężatek.
Swego czasu przychodziły do niego kobiety zamężne skarżąc się na małą "żywotność" swoich mężów. Późniejszy święty polecał im sekretny przepis na środek mający przywrócić mężczyznom owąż "żywotność".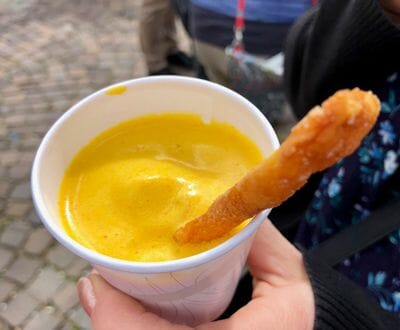 W ten sposób w Turynie ów tajemniczy środek zaczyna być nazywany "L Sanbajon", co w gwarze piemonckiej oznacza "święty Baylon". Jak można się domyślać ten eliksir to właśnie zabajone.
Przekraczając granice Piemontu zaczyna stawać się znany w coraz to odleglejszych miejscach, a jego włoska nazwa przyjmuje brzmienie zabaglione lub zabaione.
Niektóre źródła nieśmiało wspominają Neapol jako miejsce powstania tego deseru, jednakże jak zapewniają mnie przedstawiciele Proloco Bairo, w Piemoncie większą popularnością cieszy się podana tutaj historia.

[adrotate banner="3″]